Our People
De Ponte is home to some great people that make our winery one of the best in Oregon. Click on the names below to learn more about them.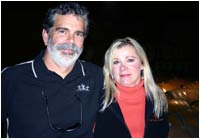 Scott and Rae Ellen Baldwin
Passion, focus and commitment are three great words to describe Scott and Rae Ellen. De Ponte Cellars means much more to them than a business, it is their home and their passion. From the day they purchased the vineyard, they focused on building a winery from which to produce memorable wines. Their commitment to quality is reflected by the facility, their choice of Winemaker and their loyal following.
The next time you stop by De Ponte you'll likely see one or both of them. They are hands on owners who value time with their customers and are proud of their wines. Be sure to say "Hi!"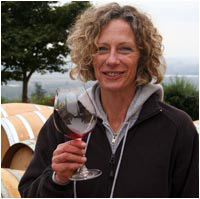 Isabelle Dutartre
Ask anyone who works with her: Isabelle is the quintessential French winemaker. Extremely talented, driven by a passion for the art of winemaking, and uncompromising in her commitment to produce the best, her wine shows these abilities and passions on all accounts.
Isabelle studied winemaking in her native France, both at the University of Dijon in Burgundy, but also out in the vineyards and wineries in several of the most well known wine regions in France. As De Ponte's first and only winemaker she has put De Ponte on the map as a boutique producer of exceptional Pinot Noir.
After years of commuting to the Dundee Hills for each critical phase of the winemaking process, Isabelle and her family have now relocated to McMinnville.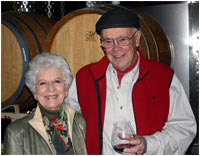 Fred & Shirley Baldwin
Fred and Shirley are the inspiration behind De Ponte Cellars. They raised a family with an appreciation for wine, a respect for the environment and a commitment to working together as a family.
It is not uncommon to see them at De Ponte Cellars assisting with a celebration or just saying hi to loyal clients and newcomers alike.
Both have been honored by their family with special wines. The D.F.B. Estate Melon is named after D. Fred Baldwin and Shirley's Gran Reserva Pinot Noir is named for Shirley Baldwin.