2018 Case Sale
Feb 1, 2021 - Feb 28, 2021

Our only sale of the year...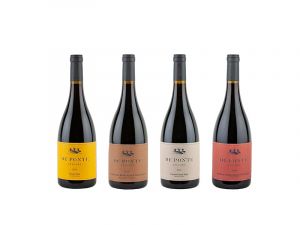 The long awaited 2018's are here... but only for the next 28 days.
10% off Club Pricing on 12 or more. Complimentary shipping on 24 or more.
Be the first to grab this vintage at the best price it will ever be offered at.
The 2018 growing season was marked by steady sunshine with no significant heat spikes or bad weather leading to a beautiful crop of healthy clusters and wines that are ripe, rich and complex. Isabelle compared the vintage to some of her favorites, noting the best of both "worlds" – the present fruit and ripeness of new world pinot noir and the balance and structure of old world, Burgundian pinot noir. It exemplifies why we make pinot noir in the Willamette valley.
---
We are including our first vintage of Dundee Hills chardonnay in the Case Sale - only 4 barrels produced!

2018 Dundee Hills Chardonnay
103 cases produced
Intoxicating nose of peach, apricot and vanilla mingle with notes of peony blossom. With vivid and structured acidity, the palate has hints of Meyer lemon, honeysuckle, and orange blossom with a touch of dulce de leche. This barrel aged Chardonnay is round, well balanced and has beautiful finesse.

$65 Retail $55 Club
$49.50/Bottle (in 12 pack Case)
2018 Dundee Hills Pinot Noir
798 cases produced
Aromatics of fresh raspberries, red currant, and rose petals mingle with the freshness of rosemary and a hint of thyme. Flavors on the palate develop from strawberry compote and fresh pie crust to a delicious, rich caramel on the long, complex finish. This wine hits all the notes of an elegant, refined pinot noir from the Dundee hills.

$48 Retail $38 Club
$34.20/Bottle (in 12 pack Case)
2018 Lonesome Rock Ranch Pinot Noir
192 cases produced
Floral notes abound while mingling with distinct aromas of earth driven minerality and dark, brambly fruit. Hints of black plum and blackberry play well with the notes of sandalwood and toffee on the palate. This wine has a beautiful tension represented by the precise acidity and defined, smooth tannins.

$48 Retail $38 Club
$34.20/Bottle (in 12 pack Case)
2018 Estate Pinot Noir
231 cases produced
Beautiful aromas of rich, ripe blackberries blend with notes of tobacco and a hint of toasted brioche. The nose is the precursor to a beautifully long structured wine with flavors of dark toffee and mocha. The elegant finish is perfectly supported by its precise acidity and velvety tannins.
$65 Retail $55 Club
$49.50/Bottle (in 12 pack Case)
2018 Baldwin Family Reserve Pinot Noir
219 cases produced
This bombshell has an intoxicating nose of violets, sandalwood, baking spice and coffee that opens to exotic hints of vanilla bean. The palate is round and silky with flavors of tobacco, black cherry, and pie crust. The oak is finely integrated and presents a wine that commands attention while maintaining the pure elegance of pinot noir.
$80 Retail $65 Club
$58.50/Bottle (in 12 pack Case)
---
Orders of 24 bottles of more are eligible for FREE GROUND SHIPPING. Cases may be mixed, but only with wines listed above.
* *When ordering online please be sure to do the following:
1) In Billing Information section please be sure to select "Member" under Wine Club tab
2) Use coupon code 2018case
If the invoice does not look correct, do not worry, we manually input and charge the orders, so the proper corrections will be made.

*Due to low temperatures across the country, ground shipping may be held until above freezing. Expedited shipping can also be arranged.

*This offer is only valid on case purchases of 750 ml bottles and for the wines listed in this email. Sorry - the Clay Hill is already a killer deal!

*You may also call the winery, 503-864-3698 or email info@depontecellars.com for orders or questions. Cheers
Dates:
Feb 1, 2021 - Feb 28, 2021